Composed 2000 Recorded 2-11.2019
Joyful celebration of nature is one of the main themes in the song chanted by Treebeard to Merry and Pippin. In Treebeard's longlasting memories, "spring unfolds the beechen leaf" and lights the "wild-wood stream", while in the summer the "dreams of trees" take shape under the roof of sleeping leaves and the winter slays hill and wood. Treebeard's song ends with the optimistic hope that, at last, he will meet his beloved and will find a land where he may rest with her. A sense of peace and tranquillity is accordingly evoked at the end of my version of Treebeard's song in the final arpeggio.
Illustration: Bogdan Craciun, Caress 
The Ents' Song
When spring unfurls the cherry leaves, and the dew is on the boughs;
When the sun is on the winding brooks, and the breeze breaks any vows;
When walks are long and tiring, and the days are still not blazing,
Return to me, return to me, and say my country is amazing!
When spring arrives in glades and meads, and the corn begins to grow;
When daisies like some twinkling stars light the valleys row upon row;
When drizzle and sun upon the ground play merrily hide and seek,
Why don't you come and live with me because my country is unique.
When summer spreads around the world, and it turns every noon into gold
Underneath the shades of dozing leaves older trees've secrets untold:
When woods and slopes are gay and cool, by the Western wind caressed,
Return to me, return to me, and say my country is the best! (x2)
When summer warms flowers and birds and it dyes the strawberry red;
When the evening air is clean and clear, and the farmers back to their shed: 
When honey is sweet, and fruit is ripe, and so tasty to the core,
Return to me to enjoy the sun oh don't depart evermore.
When winter arrives, the winter cold that the leaves and twigs slaughters;
When the trees are bare and cloudy nights will become your only daughters;
When the Eastern wind howls, and the pouring rain replies
I'll sing for you and sigh for you; Will you be listening to my cries?
When Winter arrives, songs will end; and the darkness will prevail;
When rotten is the leafless bough, and swung by a chilly gale;
I'll sing for you, I really hope some day one day we'll meet again:
We shall be travelling together on sunny days or under the rain
We shall be travelling together and find our way to the West,
And in the end we'll find a glade to settle in and have a rest.
---
---
Author of song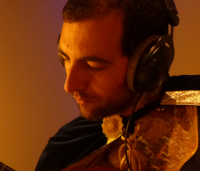 Glindar
Interprets
Glindar - voice, guitars, percussion
Floriana Moiseenco - flute
Sandra Mrozowska - violin

From Echoes from Middle-Earth, 
released 4th November 2019