(Throw Me a Stick!)
Falešné společenstvo Composed 2014 Recorded 2016
foto: Zurg
After Huan left the brothers Celegorm and Curufin and definitively joined Beren and Lúthien on their quest to reclaim Silmaril, they spent some time together in the woods. The plot of the song is completely apocryphal.
However, it's quite real. During summer 2014, while writing "The Duel of Sauron and Finrod Felagund", Elsa told me a cute story about a walk in the woods in three: a couple in love and a dog who longs for attention. Everything the song is about was already there - throwing sticks, hiding in the grass and dog naivety. There's even a photo of this female dog pulling a stick three times longer than herself. Although Huan was undoubtedly a dignified and wise dog, I couldn't resist and had to incorporate the story into a song.
The melody is quite simple, but even here I played a bit with the harmony. The verses of Beren and Lúthien are melodically similar to those of Huan, but are harmonized in a different key; In their part, Beren and Lúthien, despite the currently happy moment, feel the burden of the approaching final phase of the expedition for Silmarils, while Huan is simply a happy dog who does not worry about anything and enjoys life.
Daniela, (translation and editing: Elsa)
I just want to wander aimlessly through woods and meadows alike,
dream in awe, along my dog and with my beloved…
Huan: Throw me a stick, Beren!
Beren and Lúthien Song Cycle

(contains 24 songs, of which 20 on CD Beren and Lúthien, 2 only here on the website Songs of Middle-earth, 2 not yet recorded)
---
---
Author of song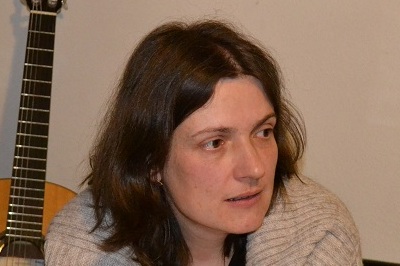 Daniela Binderová
Interprets
Music and lyrics: Daniela Binderová
Recorded in JM Studio (www.hudebnistudio.cz) in October and November 2016
Song cycle: Beren and Lúthien


classical guitar (2×): Vojtěch Domin
mandolin: Vojtěch Domin
solo voice Huan: Vojtěch Domin
solo voice + scenes Beren: Petr Bohdan
solo voice + scenes Lúthien: Blanka Janovská
special effects ("small birds", "toad's ribbit", "woodpecker", "night-owls"): Eliška Nejedlá
dog sounds: Michal Kára
 
guitar and mandolin arrangement: Vojtěch Domin
special effects and scenes arrangement: Daniela Binderová, Eliška Nejedlá
mix and mastering: Vlastimil Červenka