(Meeting of Beren and Lúthien)
Falešné společenstvo Composed 2015 Recorded 2016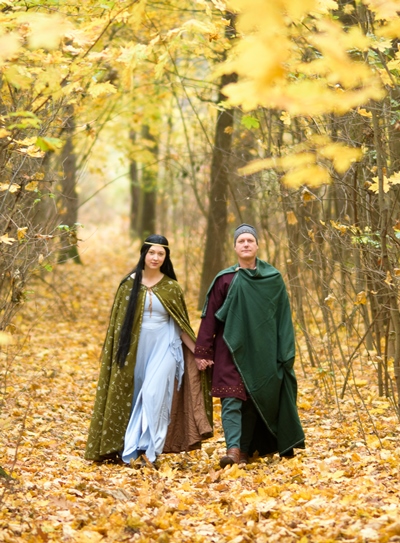 foto: Michal Kára
The song in colours and scents tells about the moment of the very first meeting of Beren and Lúthien. About the time when grief and sorrow after the death of Beren's comrades were replaced by hope with eyes reflecting the light of the stars.
Fallon
The music for The Meeting of Beren and Lúthien was already composed by the time I've gotten to compose it - before me, there was one Turlough O'Carolan, blind Irish baroque harpist. After I have laboriously "composed" my idea, I recorded a demo version and forwarded it to a friend of mine, a great musician (and harpist, too). She immediately sent me back a recording of her own, a beautiful rendition of the original piece (Carolan's "Captain O'Kane"), with added violin line, and assured me that the piece already existed before I've composed it... Haven't I heard the melody before? Of course I did. But alas, at least half of the song's music is mine, Beren's verses in particular. Or at least I think so.
Bardě
Your sight was warm, although my arms are bare,
my soul is consumed by frost.
How I'd wish to be a buckle enclosing your cloak,
for to dwell closer to your heart… May I meet you again.
Beren and Lúthien Song Cycle

(contains 24 songs, of which 20 on CD Beren and Lúthien, 2 only here on the website Songs of Middle-earth, 2 not yet recorded)
---
---
Author of music
Turlough O'Carolan, Vojtěch Domin
Author of lyrics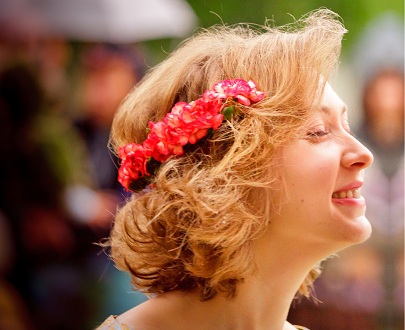 Fallon Elenwen
Interprets
Music: Turlough O'Carolan, Vojtěch Domin, lyrics: Blanka Janovská
Recorded in JM Studio (www.hudebnistudio.cz) in October and November 2016
Song cycle: Beren and Lúthien
 
classical guitar (2×): Vojtěch Domin
keyboard (viola): Eliška Nejedlá
solo voice Lúthien: Blanka Janovská
solo voice Beren: Petr Bohdan
cajón, triangle: Michal Kára
rainstick: Eliška Nejedlá
 
guitar arrangement: Vojtěch Domin
keyboard arrangement: Eliška Nejedlá
mix and mastering: Vlastimil Červenka