Máša Súrendil Klepetková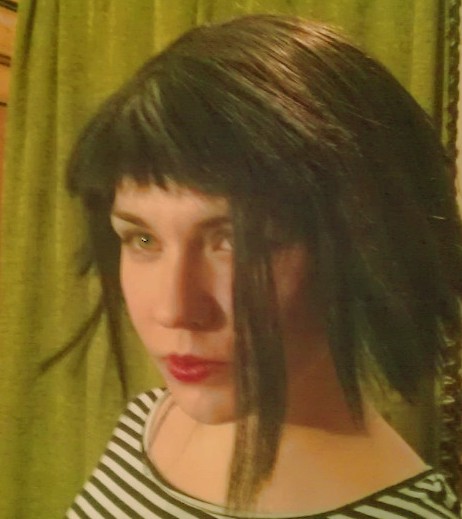 Máša is a singer, multiinstrumentalist and author of songs which oscillate on the edge of several genres. Her creative attempts can be tracked down to the kindergarten where she enjoyed mangling the songs she was taught; more serious works, however, appeared as she started to attend the secondary school.
Today she performs regularly at TolkienCon and other events. Apart from music, she takes interest in martial arts, religion and Asian studies and many other things. Middle-earth proved to be one place she found hard to leave (and we hope this will continue to be so).
Now, let Máša give away more about herself...
"Music has always been a power with ability to tune our inner world. To brighten up the mood or to upset us. To stir something deep inside us. Singing and creating the songs have been something I tended to do ever since I was a child. I used to make up parodies of songs, later I wrote my own lyrics and tunes but my first real song came when I was fourteen. I loved Irish and Breton folk at that time; later, I found that the rock and metal mood suits me as well. I have been inspired by singers like Inna Zhelannaja, Karan Casey, Amanda Palmer, Tori Amos, who can (each of them in her own genre) weave in their songs the lyrics and story together with their own specific expression. From the Czech music stage I like very much the songs of Jaroslav Tulka or the good old punk band Znouzectnost. I have experienced playing with several bands (for example Malá bílá vrána, Unfairytales, currently - 2013 - I sing and play the percussion in Jull Dajen). I've been also creatively collaborating with the violinist Radim Lapcik for several years.
Presently I'm learning to perform on my own, write lyrics in other languages than Czech and I wish I could leave here at least few songs which the people would like to sing at a camp-fire or hum in a shower :)
I was introduced to the Tolkien's world by a school-mate. With a mysterious and excited face she recommended me to read the Hobbit, for which I've been constantly grateful. Later in Russia at a cottage I discovered the Lord of the Rings and the Tolkien fans, which I found afterwards in Prague as well. Thanks to them I spent many pleasant evenings with tea in the intelligent company, where singing and playing the guitar was carried on as well as the linguistic debates. I perform the tolkienistic parts of my repertoire at the winter TolkienCon since then and I'm very happy to see there are still many people even in our hasty times who aren't afraid to pause for a moment and dream.
Well, as for my current life, I'm trying to get along by translating and interpreting; I study at university and learn to play uillean pipes and other weird musical instruments. I'm trying to set an example and prove that doing many things at the same time doesn't necessarily mean doing them wrong and also that giving up your dreams just because they say it´s reasonable to put away their fulfilling for some "future time", is foolish.
(translation Hana Kopecká December 2013)
---
Author's songs
Member of