Petr Bohdan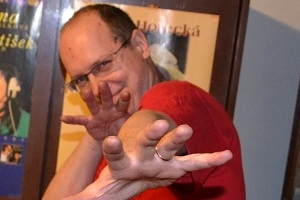 Petr Bohdan, also known as "Bóža", is one of the most visible persons in the world of Czech Tolkien inspired music. He started composing such music as soon as he first met J.R.R. Tolkien's work.
Petr is one of founding members of Poetic Fellowship, which began to form in August 1992 at New Castle by the city of Adamov. He stayed with the Poetic Fellowship until it disbanded and then he became member of its kind-of-a-successor, False Fellowship. Even now he sometimes occasionaly plays with them. Petr Bohdan is author of the pages dedicated to the history and songs of the Poetic Fellowship. He also participated in SPDPJRRT (Czech Tolkien Society), translated some of the Alex Lewis songs, and took part in the False Fellowship performance that took place at The Return of the Ring 2012 meeting in England.
Petr plays guitar and sings. He is author of many songs inspired by the world of the Middle Earth.
In "real" life he works in a field of information security and his hobbies are fencing and making chain mails.
---
Author's songs